Popular Destinations in Ireland
Other holiday ideas and property types in Ireland that might be interesting
Prices and availability
Current Holiday letting prices in Ireland
A$436 annual average
Jan
Feb
Mar
Apr
May
Jun
Jul
Aug
Sep
Oct
Nov
Dec
Average price per week
Current holiday letting availability in Ireland
51% annual average
Jan
Feb
Mar
Apr
May
Jun
Jul
Aug
Sep
Oct
Nov
Dec
Percentage of available rentals
With many possibilities for walking and hiking, city breaks and great people to get to meet, Ireland has it all. Stunning cliffs, vast moors and culturally enriching attractions are only a short ferry or plane journey across the Irish Sea – with Holidu, you can start your break ahead of schedule by booking one of many holiday home available!
Things to know about Ireland
Discover great Holiday Rentals and Holiday Lettings in Ireland
Lying between Great Britain and the vast Atlantic Ocean with the nation of Northern Ireland to its north east, the Republic of Ireland is home to a unique culture, scenery and folklore which is world renowned. To discover this intriguing country, there are a number of great holiday homes from the rugged cliffs of the west coast where sea dwellers such as dolphins and seals roam the bordering Atlantic, Ireland's picturesque middle with cosy villages and rolling hills to the East coast where the cultural hub of Dublin is found.
With many types of holidays available, Ireland is suited a large variety of holiday makers – there is bound to be a side to Ireland to please everyone. Whether you are after a walking excursion along jagged sharp cliffs, a summer holiday to one of Ireland's surprisingly stunning beaches or a cultural immersion in a beautiful city. Ireland certainly delivers - with simple access to the UK, getting there is barely a challenge as ferries as well as flights leave for Ireland on a daily basis. Find great holiday homes and holiday lettings with Holidu to book your perfect Irish break!
Holiday Homes, Holiday Lettings and Cottages in Ireland to discover your own Ireland
With a large variety of activities on offer, villages, towns and cities to explore and a great culture to discover, there are many holiday homes, lettings and cottages available to tailor your break to you. If you are travelling in the summer, be sure to check out some of Ireland's many stunning beaches, particularly on the west coast. Dog's Beach Bay near Galway in particular is a picture-postcard setting with a white sandy beach, bordering the vast Atlantic ocean. This is a great place for the family and if you have a dog,
why not bring it along too! If the weather is not on your side, Ireland offers a huge range of possibilities - there are many cosy cottages to choose from to feel warm and snuggly by the fire with a, "wee dram" of Irish whiskey or a Guinness. Why not visit Ireland's national leprechaun museum in Dublin to discover Ireland's world renowned folklore before stopping off at a comedy show later in the evening – Ireland has a reputation for great comedy amongst its people. Experience this up close and book a holiday home with Holidu!
5 Recommendations when booking a cosy Holiday Home in the Republic of Ireland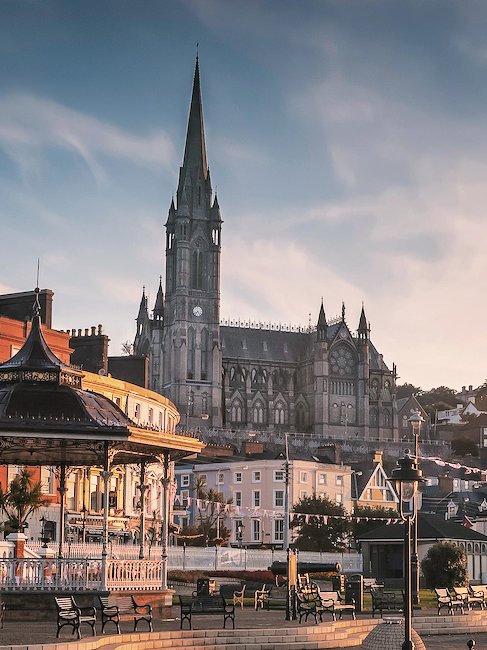 1. The city of Dublin showcases an attraction for Ireland's most famous export: Guinness. The Guinness Storehouse is the place to go to discover the history of this famous dark beer and it includes a guided tour from a local guide. If you are a beer enthusiast, this is an attraction certainly worth visiting.
2. Any die hard Harry Potter fans will be familiar with the scenery of the Cliffs of Moher on Ireland's west coast. These stunning cliffs make an awe inspiring view to behold – a towering 120meter high wall with the vast Atlantic Ocean beckoning before it. Attracting around 1 million visitors a year, this an outstanding example of sublime geology at work. Why not book a holiday letting in the area with Holidu and explore the area for yourself!
3. During your stay in Ireland, having a Guinness, a Murphy's or a, "wee dram" of Irish whiskey in a cosy traditional Irish bar throughout the country should be high up on your list of things to do. Meet Ireland's colourful locals and watch a traditional Irish band with fiddles and violins in a city such as Dublin, Galway, Cork or in a small cosy village.
4. With many films and TV epics such as Braveheart, Harry Potter and Game of Thrones being filmed in Ireland, it's no wonder that Ireland's fascinating scenery is something special to behold. Book a holiday letting and go hiking in one of Ireland's many national parks and mountain ranges, such as the Twelve Bens, Macgillycuddy's Reeks and the Galtee Mountains.
5. A particularly special time to visit any part of the Republic of Ireland is around the 17th of March: St. Patrick's Day! A sea of people dressed in green, people in high spirits and of course, a lot of Guinness will be present. Whilst many countries throughout the world celebrate the legacy of St. Patrick's Day in one form or another, why not experience the real thing and book a holiday letting in Ireland!
Discover cosy Cottages and great Holiday Homes throughout the Republic of Ireland with Holidu
Whether you are after a walking tour in national parks or the mountains, a culturally enriching experience in a city such as Dublin or want to view some of the most sublime geology Europe has to offer in Ireland's west coast: Ireland has something for everyone. With Holidu's simple search function,
you can choose from a variety of cottages, holiday home and holiday lettings available – determine how many rooms your accommodation should have, a garden, a tv, internet access and a good proximity to attractions, bars and restaurants in your chosen area. Perfect your dream Irish break and book a holiday home with Holidu today!
FAQs: Holiday Rentals & Lettings in Ireland
On average, what was the cost for holiday rentals in Ireland in 2020, during the corona crisis?
Ireland is one of the most expensive countries in Europe. An overnight stay here costs on average A$254.85 per night.
Which month allows you to save the most on holiday rentals?
Those who want to be budget-friendly should visit Ireland in February, October, and September the cheapest months of the year, with average prices of A$232.93, A$234.57, and A$241.2 per night, respectively, based on data collected in 2020.
When are holiday rentals more expensive in Ireland?
When it comes to looking for a holiday letting in Ireland, the months when it is most expensive are, in descending order, January, June and July with average prices per night of A$287.44, A$284.76, and A$279.56, respectively.
Are there usually many holiday lettings available in Ireland?
It is better to book your stay in plenty of time when visiting Ireland, as only 38% of our properties are usually available throughout the year.
Which months offer the highest availability?
In 2019, the months with more free accommodation in Ireland were May, November, and March with average availabilities of 53.6%, 49% and 47%, respectively.
During which months are there fewer rentals available in Ireland?
The month with the highest average booked rental figures is August (only 17.2% of properties were available on average in 2019). Followed by July (21%), and September (30.25%).
How many holiday rentals does Holidu have in Ireland?
Holidu offers around 7700 holiday rentals in Ireland from 25 different partners, so you will find the perfect type of accommodation you are looking for. We've got you covered!
Holiday destinations in Ireland
Holidu compares hundreds of websites to find your perfect holiday rental for the best price.